I'm trying to find the "No friends needed for careers".

Thanks ¡¡¡

BTW: I'm also looking for an old hack I had before my DL folder disappeared: I could reserve a certain bed to a certain Sim. Any info?
Simbology gives back a 404 :(
How can I start a hood with no townies in it? And then how do I populate the hood with pixel-trade sims? Fron CAS? Thanks in advance!!
Posted via LiveJournal app for iPhone.
I've been re-reading my Townie Challenge and I think I will start another one and see the difference. Or perhaps I will do it with another hood's townies. I'll see.
Visited some LJ blogs, first of all
Leenyland
. I love Leeny's stories. She is currently playing a BACC Legacy called
Bad Wolf Bay
. I have DL her Sims and started playing them. I forgot I had to DL a clean template, so I have townies everywhere.
Also the Roswell brother and sister are not brother and sister in my game as I forgot to name them so. They are in love LOL. I made Heather move out for the sake of the story. Oh, and Alistair is gay.
I've got my Sims3 game at home but haven't played more than once, when I just got it. Don't like it at all. One year after my dropout from playing I see all the sims from TS3 are as ugly and similar looking as before. Don't like them at all.
I'll stick to my Sims 2.
I've been out of simming for some time, due to the birth of my son, who is 8 mo. now. I can hardly play nowadays because he absorbs all my free time but I have started The Sims2 again.
I love Brandi Broke and have done some Simsperiments with her in the past. The last one couldn't be updated because of a computer crash. Anyway I'm back playing TS2 (I got TS3 but didn't like it at all). I'm doing different things in my new hood, Hidden Hollow. One of them is a recreation of the Roberts family, back at leenyland. I'm trying to see for myself if the same parents have the same kids in different games.
(
Read more...
Collapse
)

Here we go with the new kids in Brandi's home.

BRANDI LIKES TO VISIT THE GAMES LOT: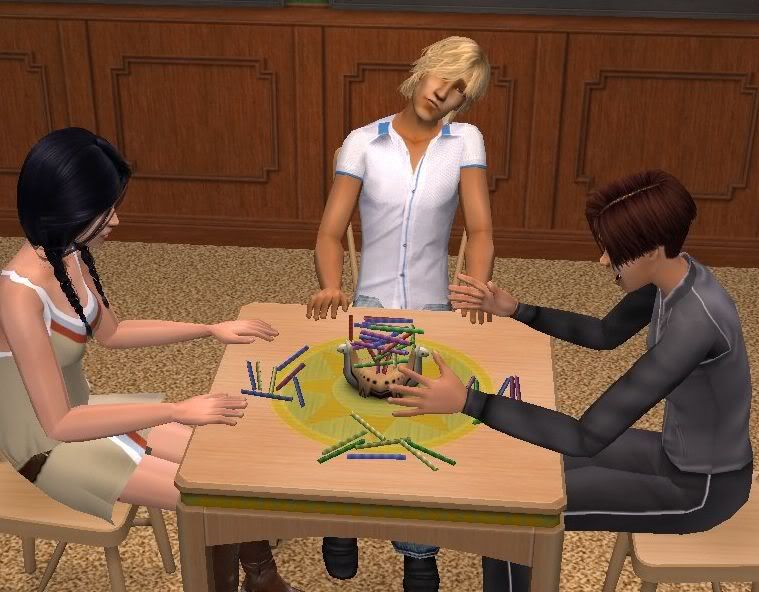 (
More kids on the way
Collapse
)
Current Mood:

cheerful

I'd been thinking about starting this experiment for a long time. Somebody suggested it in some forum: make Brandi Broke have babies with the walk-by townies and check the results. So I decided to do it twice: the Broke Experiment and the Lothario Experiment. I had both extracted in my game. This are the first 4 babies for Brandi, all of them boys.

This is beautiful Brandi, after her makeover:


(
Broke Experiment 1
Collapse
)
Current Mood:

gloomy
Ok, this is a genetic experiment. So, as I have reached the point when there are only 4 parents (Apricot, Clementine, Tangelo and Melon) and each couple could only have one child, I thought: could I have them mixed children? I mean, Apricot is Tangelo's wife and mother to Jaume and Clem is Melon's wife and mother to Fiona, but which kind of offspring would they have if I have Apricot get pregnant with Melon's child? And Clem with Tangelo's child? If you want to know, read on.
(
Find out
Collapse
)